We Extend Your Brand
While we work with a wide variety of businesses, our two biggest verticals are commercial office space and lodging such as hotels, apartments and condominiums. We work with very brand conscious companies such as Nike and innovation-oriented companies like Microsoft. The primary concern of companies such as Hilton and Hampton Inn is their customer's perception of their facility.
Retailers are obsessed with store aesthetics as this drives consumer behavior. The rustic circular sawn flooring we installed in the Bass Pro shops invites the customer to be comfortable and linger longer. Conversely, the highly polished Brazilian cherry floors at J. Crew create an upscale feel that appeals to their client base.
We are proud of the work we do in the education space and creating an environment where students learn and student-athletes play. Working for the federal government requires special clearances, unique purchasing requirements, and even special hazardous material abatement.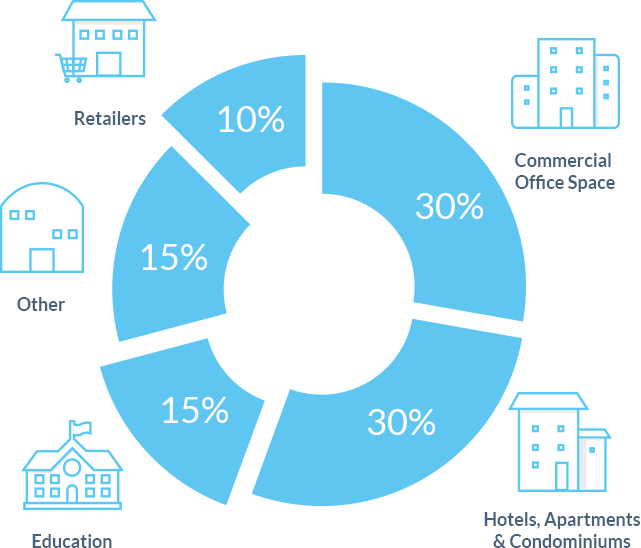 ---
Our "Peace of Mind" Project Management Process
After 20,000 installations, we truly know how a structured implementation process impacts project performance and a successful outcome. We have an established production workflow in order to minimize unforeseen problems and ensure an on-time project completion.
---

Project Kickoff Meeting
The first step in this process is the completion of the project kickoff sheet where the project scope, design, and attributes particular to the project are reviewed.
---

Submittal Process for Product Verification
This guarantees product data is submitted to the architect in a consistent manner for review and approval.
---
Material Purchasing and Ship to Shop
This ensures correct quantities of materials are purchased and promptly identifies lead time issues.
---

Labor Allocation
We use an online system to allocate manpower in advance.
---

Site Pre-installation Verification
We consistently document substrate conditions prior to installation.
---

Materials Delivery
Ensures the right quantities of products are delivered to the correct project.
---

Construction
We provide daily updates on the status of the project.
---
"Peace of Mind" Project Close Out
Our philosophy is that we are not happy unless you're happy. That's why we have our Peace of Mind project close out where you are presented with our Project Progress Portfolio which documents the phases of the project from start to finish. We ask every client to complete our ten point customer satisfaction survey and then we pass along warranties and maintenance information. As a final step, we advise our clients about the ongoing maintenance options that are particular to your floor. A sample Project Progress Portfolio is shown below.